Follow-up - geometric median centres of population
My post yesterday discussed the mean centres of population of South Africa and its provinces. The mean centre is (relatively) easy to calculate, but it may not be the most useful type of population centre. It is essentially an arithmetic mean, which means that outliers can have a massive effect on the centre. It minimizes the average square of distance from the centre, not the average distance from the centre. The centre that does minimize the average distance is called the geometric median, and it is not quite so simple to calculate, since there is no closed form solution. But it can be done!
Methodology
Finding the geometric median uses an iterative method known as Weiszfeld's algorithm, which is described in section 2.2 here (amongst many other places). As before, the calculations were performed using a PostGIS spatial database with the small area layer from Census 2011. The code implementing Weiszfeld's algorithm is in this GitHub repository; it is a naive implementation but sufficient for this purpose.
Results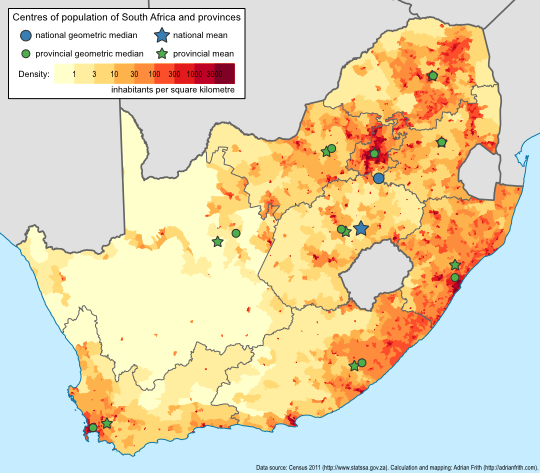 Mean and geometric median centres of population. Click to expand.
The national geometric median centre of population is at 26.84307°S 28.23545°E, on Bezuidenhoutsberg just north of Vaal Marina on the Vaal Dam. This point is 75km south of the Johannesburg CBD and very close to the tripoint of Gauteng, Mpumalanga and the Free State. It is 165km north (and a bit east) of the mean centre of population.
The provincial geometric medians are:
Written on November 16, 2014